There are various different types of direct mail you can select to deliver your campaign. We're going to run through some of them and talk about the different scenarios in which you might select each one.

Postcards are ideal if you're looking for an immediate impact. This type of campaign is designed to grab attention from the minute it's received and deliver a powerful message through visuals. One of the benefits of a postcard is that is doesn't need to be opened; this means you can get your business in front of people quicker and more effectively. Think of a postcard campaign like a mini-billboard in the mailbox.
A postcard does need to pop and stand out from the crowd, so great design is key. Zairmail offers custom postcard design if you're looking for a cost-effective way to create the best postcard.
The only real limitation of a postcard is if you require the inclusion of personal information for the recipient. A standard postcard (4.25 x 5.5 or 4 x 6) gives you less space to work with compared to a jumbo (5.5 x 8.5 or 6 x 9). You can also go with a sumo postcard (5.5 x 11 or 8.5 x 11) for even more initial impact! There is a discount for First Class postage on standard postcards – jumbo and sumo postcards mail at regular First Class rates. You will need to weigh the lower price against the greater potential impact and response rates
Postcards are all about the imagery and suffer if there is too much (dense) text. They are often reasonably informal in appearance, so they could work very well for some brands, but may lack the formality and/or privacy some formal business communication requires.

A letter, of course, allows for a great deal of privacy. If detail in the explanation is important to your message, a letter will work better than a postcard. You have the space to be very specific and even include detailed personal information if necessary.
The challenge with a letter is to get an "open" so your message is delivered. The open rates with First Class postage tend to be higher than Standard A. Color usually produces a slightly better response than black and white. A live stamp will usually pull a little better than an indicia (postage paid box); but the costs can be quite a bit more. A teaser message on the outside of the envelope can also help to boost open rates in some cases. One other popular approach is to use a double window envelope that looks similar to a bill or invoice.
Although on the surface this might seem counter-intuitive, people are worried about not opening the letter, to begin with, and relieved to find it's a not a bill after it has been opened.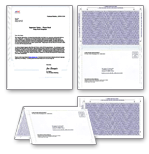 The snap-pack is the catchy nickname for a pressure-sealed mailer. These are the type of mailers that require the recipient to peel off the edges to open. This format is often used to deliver rebates and PIN numbers. Just as with a letter, the snap-pack allows for the inclusion of personal information and complete message privacy. What sets it apart from a letter is that it's far more uncommon. Snap-packs are produced using a specific type of equipment that not all printers have access to. When someone receives a snap-pack in the mail it stands compared to other mail types. Just as with a letter, you can choose the type of postage, color or black & white printing, and the option to include a teaser message on the outside. The fact that many consumers associate this format with rebates and PIN's can really help with open rates.
Ultimately, open rates and response rates vary by industry, type of offer, and even the time of the year. The number one goal is always to maximize return on investment (ROI). The rule of thumb is "when in doubt, test it". If you do not know which format to use, or you have a fresh piece that has not been proven, it is best to send out a few smaller test projects. You can vary the format (e.g. postcard, letter, snap-pack) and mailing options. Then, when you find a format and message that works well, step on the gas!
If you require any advice on which direct mail type would work best for your business, please give Zairmail a shout. We offer free consulting and we're always pleased to help you make the right decision based on your brand and your business goals. Zairmail is the fastest and easiest way to grow your business using the mail.
Zairmail (www.zairmail.com) is the fastest and easiest way to send (real) postal mail. Give us a call anytime at 888.898.0066, we would be happy to help with your direct mail needs.