How do you successfully fit direct mail marketing into your overall marketing strategy and combine this with digital marketing efforts? It almost seems like a backward concept doesn't it? Once upon a time, businesses contemplated how to make digital work and how they could expand their strategy to dovetail with offline efforts. Now the direct mail marketing space has become much less crowded it STANDS OUT above all that digital noise. But that's not all, it's also a very different place to what it was several years ago. It's crucial to recognize how consumers search for information following brand introductions and how they interact with advertising both online and offline. Here are things to consider for a more integrated marketing approach:
Matching Data Files
Target the same customers across multiple platforms by uploading your direct mail data file to places like Facebook advertising or your email marketing list. Of course, this requires that you have email addresses for the same group of people you're sending direct mail too. Email addresses could be more challenging to acquire for non-customers, but it's a very good tool for re-marketing purposes or upselling. Increasing prospect exposure to your offer is usually very effective, as long as it's not overdone. If you have time-limited or limited availability offers, sequential online ads could act as a real-time way to let customers know how much time is left, or how many spaces are still open, following on from the initial message.
Streamlined Messaging
Even if you're not targeting the exact same group of people across multiple platforms, it's still important to keep all branding and messaging the same with your online and offline campaigns. [This is super important. Consistent branding/messaging is key.] You could use color or image variations in adverts, as long as they are clearly connected. This means that if the same person does see more than one advert, they can make that brand connection instantly. This is where online campaigns really support offline efforts and visa versa.
It is important that brand/message is consistent, but we also don't want it to get stale, otherwise, people just mentally ignore it. To deal with this advertisers can change the visuals slightly to keep it interesting, but keep the messaging the same.  Check out this example from Fresh Sep Kitty Litter. This same concept can apply to our dm and digital campaigns.

Create Combined Funnels
You might use a direct mail campaign to initially reach new potential customers and generate responses. However, those responses could be online. From here you could follow up with a thank you email and continue immediate communication (in relation to that initial offer) online. You can and should use direct mail to generate responses that happen in the digital world. The direct mail campaign has played its part in grabbing attention and creating action. The digital side takes over to continue the conversation in a place that customer (no doubt) spends a lot of time… on a device.
Direct mail and email as tools both have strengths and weaknesses.  Email is a very effective tool for building a rapport once you have a relationship with a customer.  Because of the volume of SPAM these days, it is a very poor tool for prospecting or finding new customers. One of the strengths of direct mail is the ability to target – the lists and demographics are very well developed.  It can reach every household and business in America. Plus, it is a welcome form for initial engagement. That argues for a strategy that starts offline and then morphs online with periodic touches offline as well.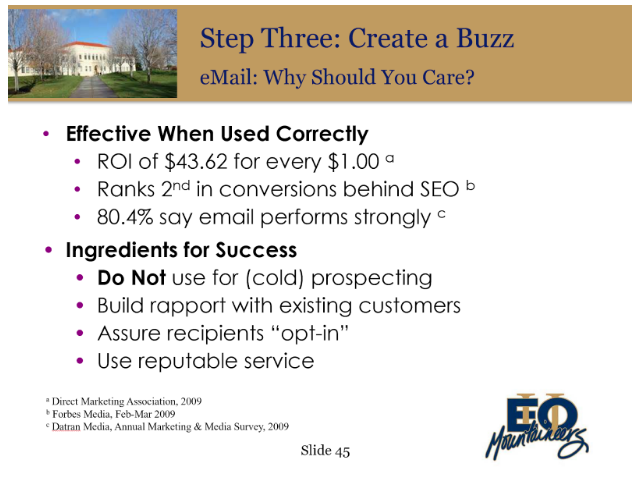 Combining your offline marketing with your digital side enhances your messages and supercharges your impact. The takeaway points here are to stop thinking about direct mail and digital marketing as two completely separate funnels and start looking at them as a way to compliment each other. It can be a real shift in your approach to thinking about marketing campaigns, but as with anything, if you're in doubt … always test it first. : )