Charles McKinley stood penniless, hopeless, and in limbo in New York City. He had come to the northeast from Texas to experience the big city. His job in retail wouldn't pay the bills, he was living beyond his means, and his girlfriend maxed out his credit cards. Charles was done with NYC and just wanted to go home – now. Still, how could he make the trip without money to travel. He was much too proud to ask others for a handout.
That is when Charles hit on a novel idea. He was walking by a church and saw a large create. He had spent some time working as a shipping clerk. He would just ship himself home to Texas. He had a UPS card that would let him pay-off the shipping fees over time.
McKinley called UPS and scheduled a pick-up at the church. Then he separated two loose-fitting boards of wood from the huge crate and wriggled inside head and shoulders first. He wrapped himself in a blanket to stay warm. The church was in a bustling area of Brooklyn, New York. Still, no one noticed the strange incident taking place just outside the church.
One hour later McKinley was lifted into a truck and swooped away to Newark airport by UPS. Fifteen hours and four flights later, McKinley was delivered to his parent's address 1,500 miles away in DeSoto, Texas. He was very fortunate that he was shipped in a pressurized cargo hold – many are not, and that could have been the end for Charles.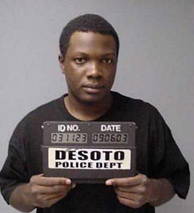 His parents were extremely happy to see him. On the other hand, the UPS driver and the DeSoto police were not as amused. Based on a call from the UPS driver, the DeSoto police arrested McKinley, and charged him with 10 felonies – mostly related to terrorism. His trip raised new concerns about cargo screening. McKinley, hidden in his crate, passed through security twice undetected.
On February 4, 2004, McKinley plead guilty to one charge of "misdemeanor stowaway" and was given four months' house arrest and a fine of $1,500. The charges that were dropped carried a maximum sentence of 50 years and a fine of up to $100,000. McKinley's Dad, a Chemical Engineer, also paid $7,000 in restitution to UPS.
It turns out this is a very expensive way to go from NYC to DeSoto that carries a lot of personal risk. Still, McKinley has taken his story on the road, and become a celebrity.
Dare we say it? Don't try this one at home!
Zairmail (www.zairmail.com) is the fastest and easiest way to send (real) postal mail. Give us a call anytime at 888.898.0066, we would be happy to help with your direct mail needs.